I L.O.V.E. Photo Contests.
Especially when the theme is "Portraits"!!!
Since two pictures were allowed, I chose the maximum. ;)
One of my favorite pictures of Ruth from our
session
together. She's so classy and I love her hat and shawl!
Another of my favorite portrait pictures from one of my
sessions
is of Abby Sunderland! I love Abby, she's so cheerful, happy, and exciting. This picture makes me smile and laugh. :)
You can check out more portraits by clicking the button!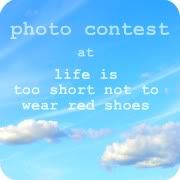 Chrissy <><